Step 1. Plan
There are five models available for those who are responsible for human resource development in the manufacturing industry, and for teachers who are responsible for student advising at educational institutions, such as technical universities and professional schools.
Please select a course appropriate for your learning plan from the Globe model that allows people working in multiple areas or countries to learn in a homogenized standard curriculum, the Student model based on the syllabus of school education, and so on.
For manufacturers
Production and Manufacturing Dept., Maintenance Dept., Human Resources Dept., Global Management Dept.
For those who want to select necessary knowledge when needed and take a course from one subject

For those who want to surely acquire knowledge by the utilization of preparation and review
Combination of
face-to-face + online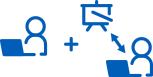 For those who want to upskill employees at multiple offices around the world
Contract of attendance
in global multiple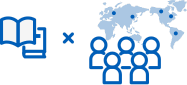 For those who want to incorporate engineer knowledge and skills into career development for their staff
Yearly contract of career
development support

For educational institutions
Technical university, high professional school, polytechnic college
For those who want to acquire manufacturing knowledge in a practical curriculum within the school term
Class syllabus-based
contract type

Step 2. Style
There are a variety of styles from remote to face-to-face learning. The curriculum can be customized according to your request.
Please select a suitable customization level from Essential, Standard, and Premium.